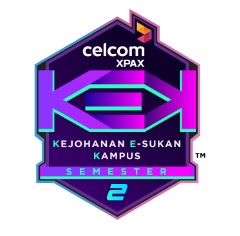 Took home RM50,000 scholarship sponsored by Celcom XPAX
Kuala Lumpur, 25 November 2019 – The quest to find the best campus esports team in the nation for the second semester of the Celcom XPAX Campus Esports Championship (KEK) 2019 has finally come to an end when Universiti Kebangsaan Malaysia (UKM) contingent became the overall champion and brought home scholarship worth RM50,000 sponsored by Celcom XPAX in the Grand Final round which took place at The Curve, Damansara yesterday. The overall winner prize was presented by special guests including Yang Berhormat Steven Sim Chee Keong, the Deputy Minister of Youth and Sports, Malaysia. Also there on stage were the Chief Executive Officer of Malaysia Digital Economic Corporation (MDEC), Dato' Ng Wan Peng and Datuk Kamal Khalid, the Managing Director of Media Prima Berhad.
To sweeten the deal, Mobile Legends Bang Bang team from UKM, Ultra Instinct managed to sustain the title of the category and took home RM13,800 with medals. The UKM contingent managed to gather 320 points, represented by Madness Esports for the PUBG Mobile category. UNIMAP Elementus' from Universiti Malaysia Perlis (UNIMAP) took home a cash prize of RM10,800 with medals. At the grand finale yesterday, the organizer also announced Semester 3 of the tournament which will take place next year.
At the grand finale which began on Friday, November 22 2019, 32 top teams from over 29 campuses showcased their best in 2 major categories, Mobile Legends Bang Bang and PUBG Mobile for cash prize worth RM 180,000. History was made, XPAXKEK was the first esports competition to offer a RM87,367 Honda Jazz Hybrid car, sponsored by Honda Malaysia to its live stream audience where Muhammad Farid Rahim was chosen as the winner of the most creative slogan contest based on the secret code released by Honda throughout the XPAXKEK this season!
This is the second time Media Prima Digital and Celcom Axiata Berhad hosted this campus esports championships featuring some of the best higher learning institutions in the nation. Organized by the MyGameOn game portal, in collaboration with their esports partner Kitamen, #XPAXKEK Semester 2 began its series of explorations to find the best teams from the local higher learning institutions in every zone, starting from Borneo (University of Sarawak Sarawak, UNIMAS ), the southern zone (Paradigm Mall, Johor), the central zone (UiTM Peak Nature, Selangor), the northern zone (University of Science Malaysia, USM) and ended with the east coast zone (Kuantan City Mall, Pahang).
The chief executive officer of Media Prima Digital, Rafiq Razali said "We are absolutely overwhelmed with the positive responses received during the second semester of #XPAXKEK. We can see the growth of Malaysia's esports ecosystem especially with the presence of so many young talented players. As a media organization, we are proud to be able to play a part in supporting government's healthy gaming initiatives thus the born of #XPAXKEK. Not to forget, the most important support from our fellow sponsors especially Celcom XPAX in realizing this dream."
Meanwhile, Mr Danny Chew, Chief Officer of Consumer & Home Business Officer KD Celcom Axiata Berhad said" As a youth brand that always provides the best service, we want to continue to inspire young people by supporting their interests and involvement in esports. The collaboration between Media Prima and Celcom in the second semester of #XPAXKEK is one of our joint initiatives in providing a platform for the youth to challenge themselves and move forward with the technology and digital era. Lastly, we want to be the ultimate network provider in this fast-moving digital lifestyle of fellow Malaysians.
Other than PUBG Mobile & Mobile Legends, there was also open tournament of CS:GO game, organized by Legion by Lenovo in a mission to provide the best esports experience through its gaming appliances where the winner will take home the latest set of gaming laptop, Y7000 by Legion from Lenovo.
#XPAXKEK this semester also welcome the return of two of the best esports commentators Radzi "Ikuto" Rahman and Adam "Spartanker" Faiz where they will be giving their solid reviews for Mobile Legends Bang Bang. Visitors are also lucky enough to try out other games available at XPAXKEK through the "KEK TRIAL" and "KEK ARKED" segments that offered up to RM 6,000 worth of Lazada vouchers!
Other than watching the tournament, visitors of the event brought home a variety of exciting prizes and giveaways including 3 Realme 5 Pro smartphones, 3 sets of L24E-20 LED Backlit LCD Monitor and Lenovo's Ideacentre 510S Legion, OYO Hotel vouchers, Lazada vouchers and many other exciting gifts.
Similar to the previous location, the public were entertained in #KEKJAM with great performances from our local artists Nabila Razali, Ara Johari, Naim Daniel, Ismail Izzani, Ernie Zakri and Amir Hassan. This time around, the XPAX X-ASSINS that appeared in the Professional League of Mobile Legends (MPL) Season 4 has made a special appearance.
The esports tournament also injects educational elements by featuring discussion and sharing sessions with some players of the industry through the 'Sembang Gamers' slot. Students who are interested in esports and the gaming industry can participate in all these activities and seize the opportunity throughout the tournament.
Winner list for #XPAXKEK2 as follows: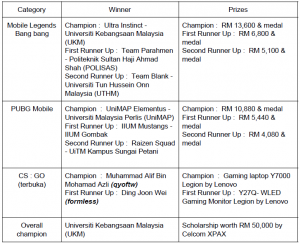 Visitors can find out more about #XPAXKEK through www.mygameon.my portal and the official MyGameOn Facebook page.
#XPAXKEK Semester 2 is exclusively driven by Celcom XPAX. #XPAXKEK Semester 2 is also activated by Legion by Lenovo, Honda Malaysia, Realme Malaysia, Malindo Airways, Rohto Mentholatum, Lazada, Fitlion, Royale Chulan Hotel & OYO Hotels. #XPAXKEK Semester 2 is also supported by the Malaysia Digital Economy Corporation (MDEC), the Ministry of Youth and Sports Malaysia (KBS), Esports Malaysia (ESM) and the Mobile Legends E-Project.
-Tamat-
Media Contact:
Dhiya Aizat               
Lead, Communications, Media Prima Digital
Tentang MyGameOn
Media Prima Labs launches its gaming portal, MyGameOn that provides news, reviews and events for games, featuring both local and international content. MyGameOn is built to serve as a comprehensive local game news portal that focuses on relevant game content to Malaysian audience. MyGameOn targets urban and sub-urban customers ranging from 12 to 25 years old who love gaming or stays up-to-date on the latest trend or news related to games and game tournament. MyGameOn is the one stop centre to all game lovers out there
Tentang Celcom XPAX
XPAX is Celcom Axiata Berhad's youth brand with almost 7 million prepaid subscribers. A brand that enables youths to be who they want to be, XPAX offers the best value and unbeatable non-stop internet experience. With XPAX, customers can enjoy more internet, simplified add-ons and more.