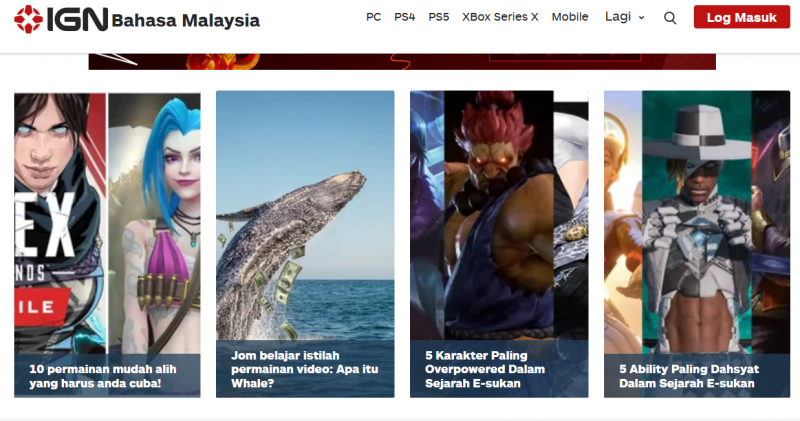 Petaling Jaya, 15 October 2021 – IGN Southeast Asia, the regional edition of the world's leading media brand for games, entertainment and fan culture, has gone lokal! 
Malaysian fans of gaming and entertainment can now access the latest exclusive information, previews, interviews, trailers, reviews and much more in the new Malay-language sub-edition, IGN Southeast Asia – Bahasa Malaysia (https://sea.ign.com/bm).
Founded in 1996, IGN is one of the world's leading media brands for games, movies, entertainment and fan culture, reaching a global multi-platform audience of 288 million (Google Analytics & platform metrics, monthly average of Q2 2021).
The Southeast Asia edition of IGN was relaunched in 2019 under a partnership between REV Media Group, one of Southeast Asia's leading digital media groups, and IGN parent company Ziff Davis, a leading global digital media group.
IGN Southeast Asia tailors the popular IGN formula for passionate audiences in Malaysia, Singapore, Indonesia and the Philippines with original content, creating a unique platform for brands to engage with consumers through advertising, sponsorship and events. IGN Southeast Asia also helps companies in the SEA region reach customers in the rest of the world, through IGN's global network.
IGN Southeast Asia already reaches a multi-platform audience of 5.9 million (Google Analytics & platform metrics, monthly average of Q2 2021), ahead of the Bahasa Malaysia expansion.
Adrian Lai, IGN Southeast Asia Editor-in-Chief and REV Media Group's Head of Games, said: "We believe that going lokal is the essential next step in IGN's regional evolution. The new Bahasa Malaysia edition will take us deeper into the Malay gaming market, one of the largest in Southeast Asia, worth US$100 million in 2018.
"The Malaysian games industry is thriving with locally developed titles across multiple platforms, and IGN Southeast Asia –aims to shine a light on the brightest and best games originating from Malaysian talent – whether that's in English or Bahasa Malaysia languages." 
Adam Doree, Vice President, Global Partners at Ziff Davis, said: "We're delighted to expand our partnership with REV Media Group in Southeast Asia. The region has become a global focal point for entertainment and gaming companies seeking growth, and IGN SEA is now even better positioned to serve the needs of those clients as the leading destination for fans."
IGN is one of the most globally developed media brands in the world, not just in entertainment, but in any category – now available in 30 international editions, 20 languages and 110 countries (https://world.ign.com), representing a unique opportunity for brand partners by offering both scale and local relevance in every key market world-wide.
-END-
Media Contact:
Muhammad Faisal (Petch)
Communications, REV Media Group
faisal.noor@revmedia.my 
About REV Media Group
REV Media Group is the leading digital publisher in Malaysia, representing over 30 top authority brands with an extensive distribution network that reaches out to more than 15 million people each month, about 75% of Malaysia's internet population. At REV Media Group, we believe in harnessing the power of data and technology to deliver engaging content that matters the most to our audience across multiple languages and platforms comprising News, Entertainment, Lifestyle, Technology and more. Leveraging our comprehensive platform and reach, we strive to elevate brands to greater heights through influential, data-driven digital marketing solutions and exceptional content aimed at winning the hearts of consumers.
About Ziff Davis
Ziff Davis LLC, a division of J2 Global, Inc., is a leading global digital media company operating in three core verticals:  Technology, Gaming and Shopping. Its brands – including IGN, PCMag, Mashable, Humble Bundle, Speedtest, RetailMeNot, Offers.com, BlackFriday.com, TechBargains and Spiceworks – produce and distribute premium content across multiple platforms and devices. Ziff Davis delivers advertising, performance marketing, data services and licensing solutions to thousands of clients worldwide and publishes in 20 languages with local partner operators across 110 countries.