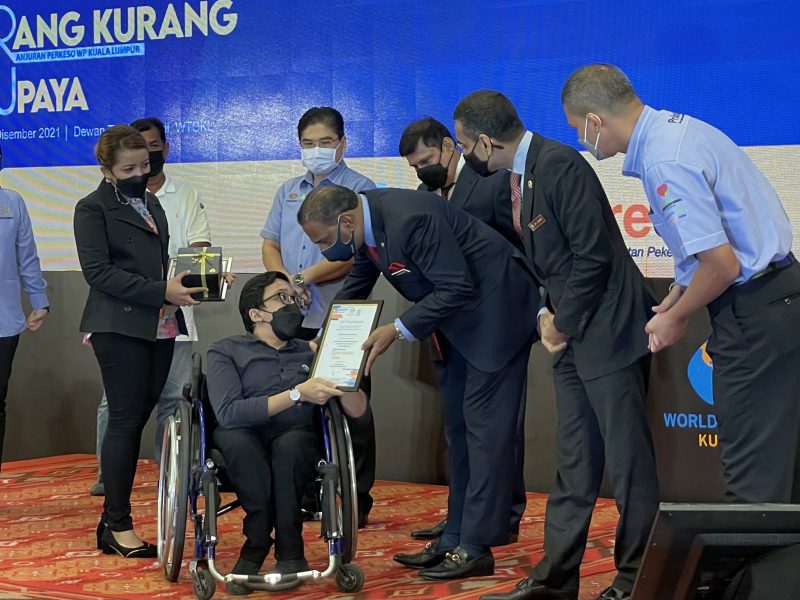 Petaling Jaya, 14 December 2021 – REV Media Group (formerly known as Media Prima Digital Sdn Bhd) was selected as a recipient for 'Majikan Prihatin' by Social Security Organisation (SOCSO) today on the effort of hiring a disabled employee (OKU), Mohd Akmal Bin Shapii under Employee Hiring Incentive (Program PenjanaKerjaya 3.0).
Mohd Akmal, 25 years old is a Data Engineering Executive in REV Media Group and has started working since June this year, while the country is still in the pandemic phase.
The award was presented by Minister of Human Resources, YB Datuk Seri M. Saravanan at Karnival Kerjaya Orang Kurang Upaya (OKU) today which took place at Tun Dr Ismail Hall, World Trade Centre Kuala Lumpur (WTCKL).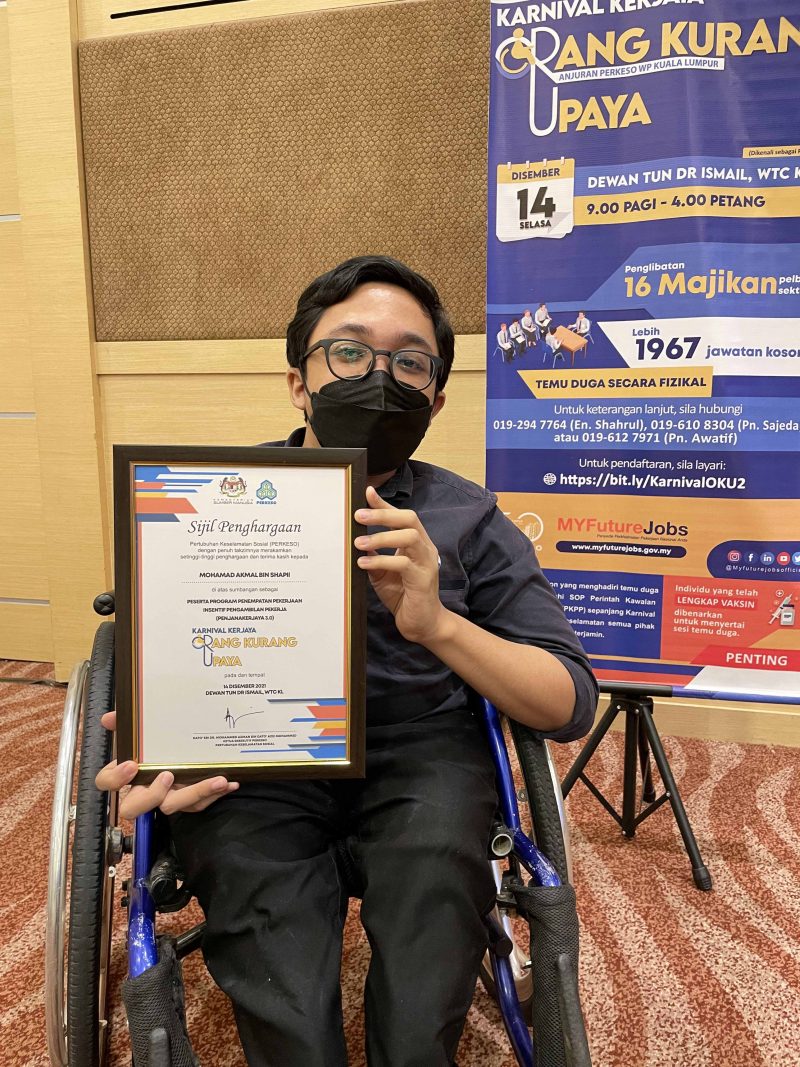 Minister of Human Resources, YB Datuk Seri M. Saravanan said, "Today's program is a continuation of the Ministry of Human Resources' efforts in providing equal opportunities to these groups to contribute to the national economy.
"This proves that no group is neglected or left out by the Ministry of Human Resources, including people with disabilities who need to be given equal employment opportunities, like other job seekers", he added.
Mohd Akmal is categorised under OKU category of physical disability where an individual suffers from limb disability either loss of function or not having a limb in any part of the body including imperfect limb condition which this condition will affect his ability.
According to Akmal, he was a normal person at birth but after the incident of falling from a cradle when he was three months old, his leg was broken and getting weaker and he was no longer able to walk.
"I started using a wheelchair in primary school. Before that I could still walk as usual but after several incidents of broken legs, the doctor confirmed that I had osteogenesis imperfecta, a bone disorder from birth.
"It is common knowledge that there are some employers out there who think that the disabled are a burden to them. Employers out there don't have to be afraid to hire people with disabilities because we can also work like normal people.
"I would also like to take this opportunity to thank REV Media Group, Media Prima, and SOCSO for believing in me and giving me the opportunity to serve the company ", said Mohd Akmal.
REV Media Group CEO, Samuel Wee said, "We are definitely happy and proud of Akmal's presence and believe he can share his talent just like everyone else. At REV Media Group and at Media Prima in general, we welcome diverse talent from anyone ".
-END-
Media Contact:
Muhammad Faisal (Petch)
Communications, REV Media Group
faisal.noor@revmedia.my
About REV Media Group
REV Media Group is the leading digital publisher in Malaysia, representing over 30 top authority brands with an extensive distribution network that reaches out to more than 15 million people each month, about 75% of Malaysia's internet population. At REV Media Group, we believe in harnessing the power of data and technology to deliver engaging content that matters the most to our audience across multiple languages and platforms comprising News, Entertainment, Lifestyle, Technology and more. Leveraging on our comprehensive platform and reach, we strive to elevate brands to greater heights through influential, data-driven digital marketing solutions and exceptional content aimed at winning the hearts of consumers.