First-Ever Collaboration between REV Media Group and Universiti Teknologi MARA to Strengthen Esports Among Students and Higher Learning Institutions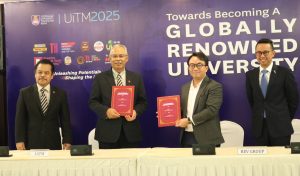 Kuala Lumpur, 14 August 2020 – A Memorandum of Understanding (MoU) was signed between Rafiq Razali, the Chief Executive Officer of REV Media Group and Prof. Emeritus Datuk Ir. Dr. Mohd Azraai Kassim, Vice Chancellor of Universiti Teknologi MARA (UiTM) to seal a collaborative relationship between both parties in strengthening, encouraging and developing academic, cultural and research sectors based on mutual and equitable gains.
Witnessed by Dato' Iskandar Mizal Mahmood, the Group Managing Director of Media Prima Berhad and Prof. Dr Azizan Abdullah, the Deputy Vice Chancellor of UiTM, this symbiotic collaboration between REV Media Group and UiTM will not only educate, nurture and provide exposure to academics and students into this industry, but also support the government's gaming and esports initiatives.
"We are well aware of the potential that students of the higher learning institutions have and we believe the esports industry in Malaysia will be able to continue growing further especially with the support we received through Kejohanan E-sukan Kampus (Semester 3) which has just ended recently. With the overwhelming response received, we believe that this collaboration will also be successful. UiTM's commitment in empowering esports inspired us to continue developing more programmes together to cultivate local esports talent." said Rafiq Razali, the Chief Executive Officer of REV Media Group.
Prof. Emeritus Datuk Ir. Dr. Mohd Azraai Kassim, the Vice Chancellor of Universiti Teknologi MARA (UiTM) also said, "I hope that more esports programmes will be organized and expanded internationally. I also hope that this joint venture will be an eye opener for more parties to collaborate and be able to accept esports not only as a healthy sports but also as an opportunity to generate income in the nation's esports sector."
Through this memorandum of understanding, both parties agreed to encourage international collaboration in the academic field such as holding various programmes at UiTM, exchange of information on developments in research, technology and esports, student development and research institutions.
Apart from that, this MoU will also establish a collaboration to develop 'esports hub labs' at UiTM's CMT Hub for electronic development among UiTM students as well as to organize the Kejohanan E-Sukan Kampus (KEK) program where MPD will serve as the main organizer while UiTM as a strategic partner for students and universities.

In line with the efforts of both parties in implementing esports, this memorandum of understanding will witness the collaboration between the two parties in organizing more esports programs or promoting the esports, gaming and media industry at UiTM.
-END-
Media Contact:        
Jessica Poon          
Communications, Executive, REV Media Group
About REV Media Group
REV Media Group is the leading digital publisher in Malaysia, representing over 30 top authority brands with an extensive distribution network that reaches out to more than 15 million people each month, about 75% of Malaysia's internet population.
At REV Media Group, we believe in harnessing the power of data and technology to deliver engaging content that matters the most to our audience across multiple languages and platforms comprising News, Entertainment, Lifestyle, Technology and more. 
Leveraging on our comprehensive platform and reach, we strive to elevate brands to greater heights through influential, data-driven digital marketing solutions and exceptional content aimed at winning the hearts of consumers.
About UiTM
Sebagai universiti komprehensif terbesar di Malaysia, Universiti Teknologi MARA (UiTM) telah mempertingkatkan ketampakanya melalui kerjasama dengan universiti di seluruh dunia. Ia terus menyediakan akses kepada pendidikan tinggi, memainkan peranannya dalam membina negara dengan MENYERLAHKAN POTENSI, MEMBENTUK MASA HADAPAN.
Dalam menyediakan pendidikan inovatif di 35 kampus dan 26 fakulti di seluruh Malaysia, UiTM menawarkan lebih daripada 500 program akademik di peringkat Asasi, Pra-Diploma, Diploma, Sarjana Muda, Sarjana, dan PhD, serta Program Profesional. Kini, UiTM adalah sebuah institusi pengajian tinggi terkemuka yang terbukti menjadi pilihan pelajar. Antara pencapaian terhebat, pada tahun 2020, UiTM menduduki tempat ke-119 dalam QS Asia University Ranking dan kedudukan 651-700 dalam QS World University Ranking, memenangi Anugerah Emas dalam kategori universiti awam Reader's Digest Trusted Brand 2019 dan 9 daripada subjeknya tersenarai  dalam QS World University Ranking 2019.
Dengan lebih daripada 800,000 alumni dalam bidang sains, teknologi, kemanusiaan dan keusahawanan, UiTM menawarkan peluang dalam membentuk pemimpin di peringkat kebangsaan, industri dan global dalam mencapai aspirasi untuk menjadi sebuah UNIVERSITI TERKEMUKA DUNIA menjelang 2025.