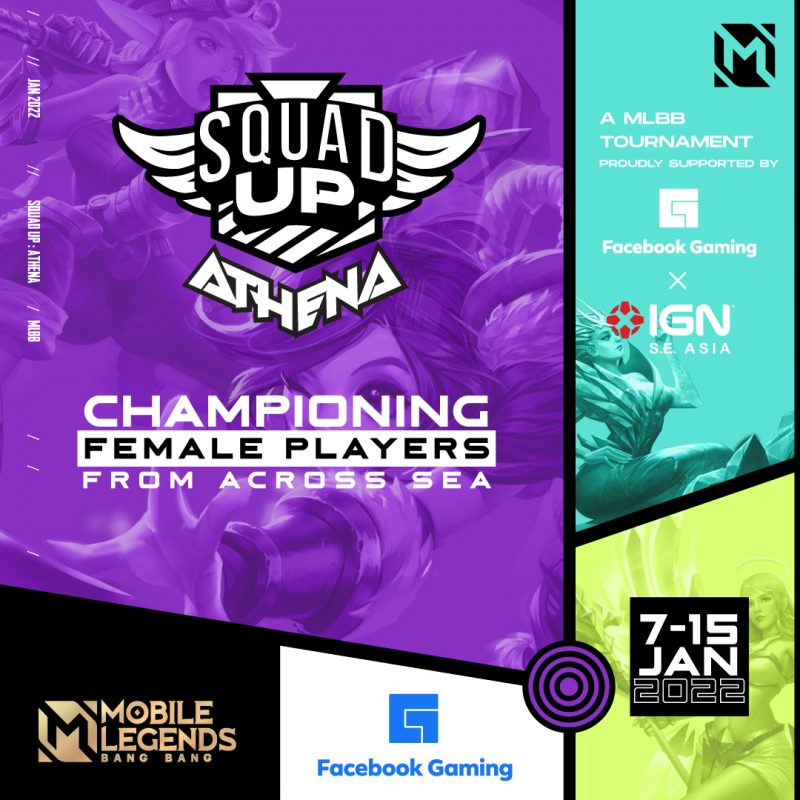 Petaling Jaya, 4 January 2022: Kicking off the new year, REV Media Group (RMG) through its Gaming Network, IGN SEA is excited to bring the first esports tournament of the year Pour Femme known as Squad Up: Athena!
Squad Up made its debut in 2020 with PlayerUnknown's Battlegrounds (PUBG) Squad Up 2020 tournament and the Squad Up: Athena is the continuation of the esports tournament series, championing women gamers across Southeast Asia. 
Athena, often associated with a Greek myth, is an ancient Greek goddess of wisdom, practical skills and prudent warfare and that is exactly what the tournament is looking for!
Squad Up: Athena is an open regional qualification tournament that will lead to an ALL-STAR invitational tournament where only one team will be crowned as champion from a total of 24 teams (12 from qualifiers, 12 invited) playing Mobile Legends: Bang Bang.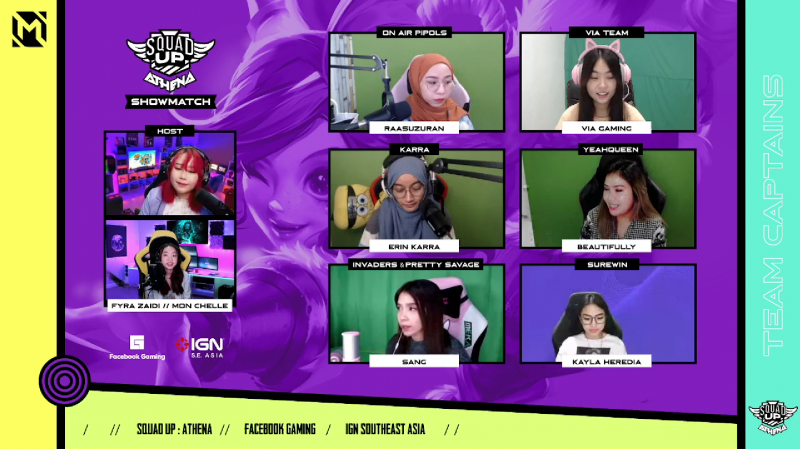 The search for the ultimate Athena started in December 2021 with the open qualifier round which was held from 18th to 20th December 2021, seeing amazing team playoffs from regional participating countries, Malaysia, Singapore, Indonesia and Philippines to book themselves a spot in the nationals round before the best is selected to battle in the regional final round.
A follow-up showmatch was showcased online by top Facebook Gaming creators across Southeast Asia (https://fb.gg/v/acnbIxo7IL/) on 21st December 2021 to let the audience know which teams managed to qualify for the national tournament and the invited teams for the finale.
Not the typical weekend esports event, Squad Up: Athena, the first female esports tournament will take place from 7th to 9th January for Malaysia, Indonesia and Philippines tournament rounds respectively, and the finale will be on 15th January 2022.
Winners from the nationals tournament will bring home RM21,000 cash prize each (Malaysia, Indonesia, Philippines) and the ultimate winner will take home RM42,000 cash prize.
RMG's Head of Gaming Content, Adrian Lai said, "We are thrilled to bring not only our first female esports tournament but also the first Mobile Legends female esports tournament to  gaming fans. We realise women now are demanding equality in esports tournaments because they make up 44% of gamers in the world.
"We believe that the women empowerment tournament on IGN SEA will attract gamers across both genders and will push barriers in the local esports scene," he added.
RMG's Chief Operations Officer, Nicholas Sagau added, "The recent pandemic has affected many industries including esports. In light of the current situation, we're confident that the esports industry will be bouncing back and rejoicing again and the public can expect to see more interesting esports initiatives from us down the road.
"Squad Up: Athena is the first of many more initiatives by the group to reignite the momentum of esports moving forward. We hope to see as many people as possible joining hands together with our efforts," he added.
Get ready in front of any of your favourite devices, sit back, relax and enjoy the match! Get more information on Squad Up: Athena or any gaming related matters at https://sea.ign.com/. Game on! *Also watch the space for Squad Up: Open and Merdeka edition soon!
-END-
Media Contact:
Muhammad Faisal (Petch)
Communications, REV Media Group
faisal.noor@revmedia.my 
About Squad Up Athena
Open to

Female only

Prize pool

RM21,000 (Malaysia winner) |

RM21,000 (Indonesia winner) |

RM21,000 (Philippines winner) |

RM42,000 (Grand winner)

Game title

Mobile Legends: Bang Bang

Organiser

IGN SEA (REV Media Group)

Livestream channel

https://www.facebook.com/IGNSEA

(Facebook IGN SEA)
*Important dates:
| | |
| --- | --- |
| 7th January 2022 |  Malaysia tournament |
| 8th January 2022 |  Indonesia tournament |
| 9th January 2022 |  Philippines tournament |
| 15th January 2022 |  Grand finale – International tournament |
______________________________________________________________________________
About REV Media Group
REV Media Group is the leading digital publisher in Malaysia, representing over 30 top authority brands with an extensive distribution network that reaches out to more than 15 million people each month, about 75% of Malaysia's internet population. At REV Media Group, we believe in harnessing the power of data and technology to deliver engaging content that matters the most to our audience across multiple languages and platforms comprising News, Entertainment, Lifestyle, Technology and more. Leveraging our comprehensive platform and reach, we strive to elevate brands to greater heights through influential, data-driven digital marketing solutions and exceptional content aimed at winning the hearts of consumers.
About MyGameOn
MyGameOn focuses on gaming and esports with a local twist. Its services include event coverages, game reviews, player interviews, media partnerships and so much more! If you have an event you want Malaysia to hear about, get in touch with MyGameOn!
Working with government bodies such as the Kementerian Belia & Sukan (KBS), Majlis Sukan Negara (MSN), and Malaysia Digital Economy Corporation (MDEC), MyGameOn strives to grow esports and gaming, and to bridge gaming communities, from casual gamers to corporate brands.
About IGN Southeast Asia
The Southeast Asian edition of IGN was relaunched in August 2019. IGN SEA has two objectives: to report on the video games industry in the region as well as to serve as the go-to site for everything video game and anything remotely geek for fans in Singapore, Malaysia, Indonesia and the Philippines. 
Since the establishment of IGN SEA, the edition has become a reputable gaming publication in Southeast Asia. You'll be seeing more cool changes and content additions in the upcoming months as we sacrifice our sleep to produce more quality video content and features as well as expanding our reach to gamers in Southeast Asia. Besides the website and social media platforms, IGN SEA plans to organise gaming events of our own in the near future, so stay tuned! 
Essentially, IGN SEA is the one-stop centre for video game fans, delivering all relevant and up to date news as well as event coverage. Owned and operated by Media Prima Bhd, with rights from Ziff Davis International, IGN is a part of the powerful network of websites including PCMag.com and AskMen.com. Working with us is the right pathway to the right audience.