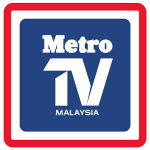 Harian Metro & Media Prima Labs launch MetroTV
Kuala Lumpur, 23rd May 2017 – Well-known Malay publication, Harian Metro (HM) and Media Prima Labs (MPLabs), the in-house incubator under Media Prima Digital (MPD) launches MetroTV App that brings every day video form news. MetroTV will feature exclusive video content by offering a variety of news that centralizes human interest, crime, sports, entertainment, semi-documentary and politics.
Suiting the flow of technology, culture, and digital ecosystem in Malaysia, MetroTV is bound to offer OTT (over-the-top) and VOD (video-on-demand) video contents. The one thing that makes MetroTV more exciting is it's the one and only video app that hosts the "Live Telecast" function, in which users of MetroTV will be able to watch live news coverage and interesting shows arranged every day.
In order to strengthen the relationship between readers and Harian Metro, MetroTV will soon update its UGC (User Generated Content) that will allow users to send videos through the app. MPLabs employees are still working on the platform and it is predicted to be ready after Hari Raya Aidilfitri.
Besides, Harian Metro and MPLabs are in the midst of building the technology that will allow users to be able to watch the daily life of a journalist called JAW or Journalist At Work.
"The launch of MetroTV is an initiative to sustain the status of Harian Metro as the most popular publication in Malaysia. MetroTV is our new venture as a way of appreciating our loyal readers who never stopped supporting Harian Metro since 25 March 1991." said Group Editor of Harian Metro, Datuk Mustapa Omar.
"It is for sure that in this flow passage of time which requires integration of latest technology, MetroTV will be the bench mark to measure the harmony between new media and traditional media to hold responsibility as media practitioners. MetroTV is also a medium to transmit existing information in a more exciting and commercialized manner." added Datuk Mustapa.
Other than that, Rafiq Razali, the Chief Executive Officer of Media Prima Digital said, "We want to continue producing user friendly apps and games for the 3 million users out there and MetroTV is definitely one of that."
"Community today seeks for something more interactive specifically in getting the latest news and information and MetroTV comes in just in time. We are happy to be given a chance to develop the MetroTV app. This in a way to strengthen our presence in the digital world." added Rafiq.
The MetroTV app can be downloaded on Apple App Store and Google Play Store.