The Graphic Designer will be a key contributor in producing social media creative materials for REV Media Group under the SPARK (Social Products & REV KOL) Team. The position includes the entire process of defining requirements, visualizing and creating graphics including illustrations, logos, layouts and photos.
You are creative and enjoy interfacing with cross-functional teams to bring graphics that capture the attention of those who see them and communicate the right message. You have a creative flair and a strong ability to translate requirements into design suitable for social media. You thrive in a collaborative environment where employees are empowered to make decisions that substantially impact the success of the business. The successful candidate will be able to operate in a fast-paced, results-oriented environment, and have excellent communication, interpersonal and graphic design skills.
Your duties and responsibilities include:
Working with Social Content Specialists in producing graphics for a variety of content forms, including video graphics, text, still imagery, animation, live action and other content forms that best utilize the technology available on any given social media platform.
To advise in regard to design style, format, lead time of sponsored social media content across different channels within Media Prima Group (Facebook, Instagram, TikTok, Twitter, etc.)
A keen eye for accuracy, attention to detail and an understanding of the latest graphic design trends and their role within a social media environment.
Strong knowledge and understanding of social media visual guidelines and sizes
Familiarity with design software and technologies
Exploration and usage of SPARK AR Hub
Developing concepts, graphics and layouts for social media visuals based on creative brief
Preparing rough drafts of materials based on an agreed brief
Work with SCS to produce final design. Test graphics across various media
Amend designs after feedback.
Participate in huddles, brainstorms, and all team activities
To execute any other ad-hoc tasks as assigned by team leads
MAJOR JOB CHALLENGES/COMPLEXITIES
Juggling various campaigns at the same time while still producing the best work output possible for every brief. Working in a fast-paced environment and effectively managing time, schedules and deadlines. Think ahead and constantly seek to improve quality of work, speed of delivery and process efficiency to achieve optimal business results.
The person we're looking for:
Familiarity with design software and technologies (InDesign, Illustrator, Dreamweaver, Photoshop)
Good written and oral communication skills. Language proficiency in English & BM is a must. Proficiency in other languages (Mandarin, Cantonese, Tamil, Hindi) will be a plus.
Proficiency in Google suit is essential.
Diploma or degree in mass communication, advertising, graphic design, multimedia, fine arts or any related disciplines.
Min 1 year of experience working with graphic design, social media, ad agencies or any other related industry or company.
Proven graphic design experience & a strong portfolio of illustrations or other graphics
Must be a creative, driven and good-natured team player who is willing to pitch in where necessary.
Social media design savvy
Possess keen attention for detail and critical problem-solving skills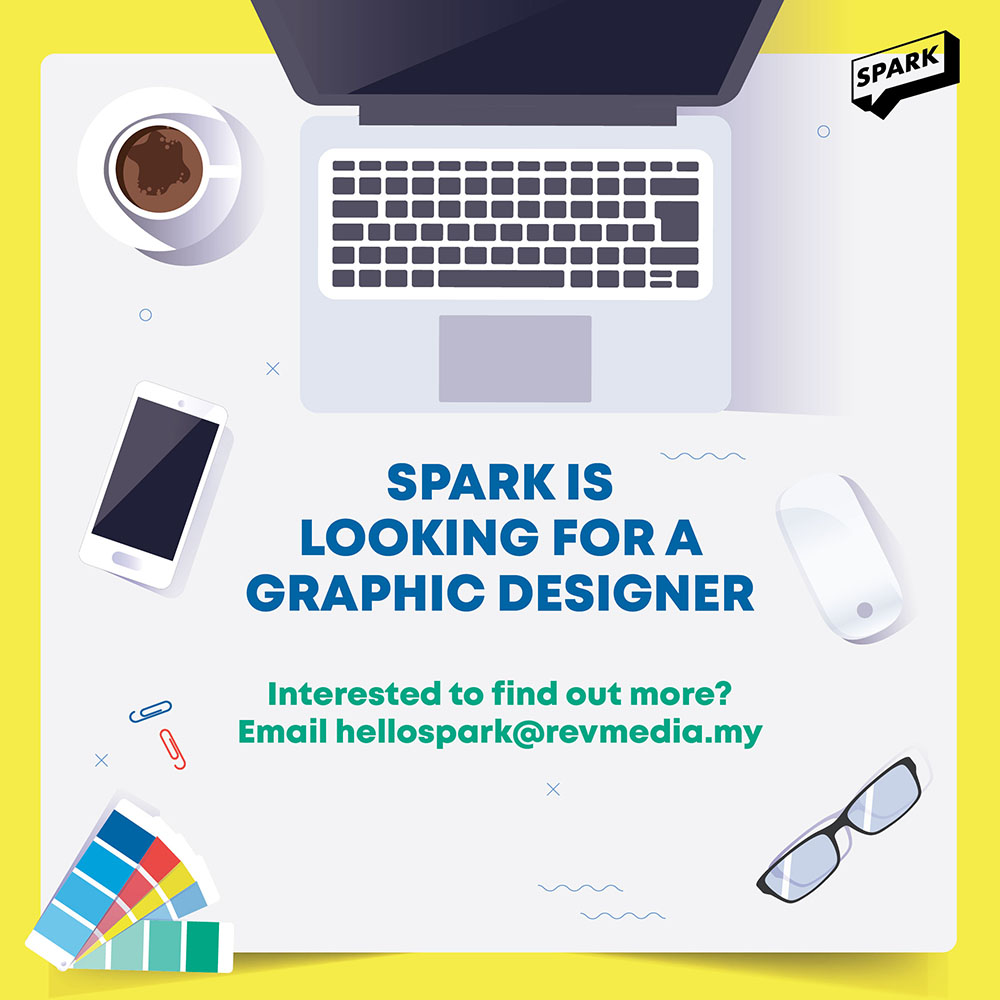 If you think, you fit for the role above, do drop a copy of your CV/Resume, together with an introduction email telling why are you interested for the role above, notice period (if applicable) and expected salary to hellospark@revmedia.my today!