Petaling Jaya, 7 March 2022 – After the Sabah, Melaka and Sarawak state elections, now it is Johor's turn to elect 56 members of the 15th Johor State Assembly after the dissolution of the previous assembly on 22 January 2022. As usual, Malaysians can follow and receive the latest updates and information on Johor state election through myundi at www.myundi.com.my.
Making its debut in the 2018 election, the one-stop portal that was launched by REV Media Group provides current news, the latest information related to the election as well as the overall election results. myundi is an all-in-one digital platform that provides interactive engagement with accurate election statistics.
With its new design concept and identity, myundi aims to improve its business presence and web usability. Through myundi, you can find top election stories, headlines, videos, and more pertinent information related to candidates, polls, campaigning and more.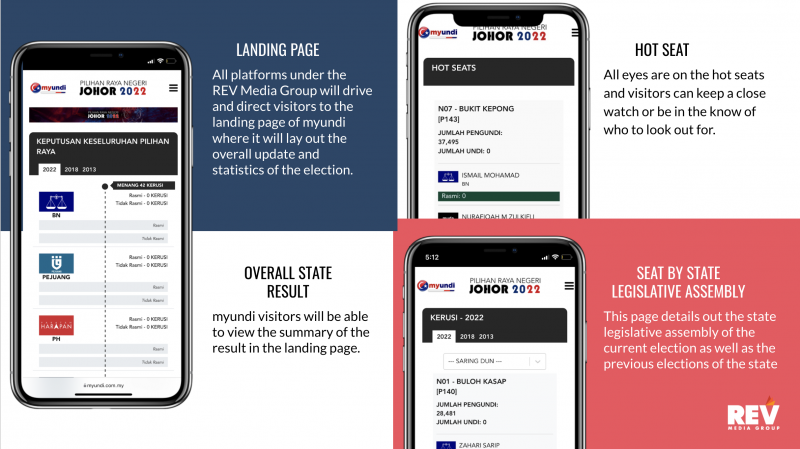 The public can make full use of myundi with new features that are more modern, optimal and more responsive. myundi only provides information and information obtained from authentic sources (featuring the latest news reports from leading local newspapers; Berita Harian, Harian Metro, and New Straits Times as well as reports and analysis from TV3, ntv7, 8TV, and TV9) and scalable (real-time voting results).
The Election Commission (EC) has set March 12 as the polling day for the Johor state election. Among the important dates for the Johor state election are:
25 February 2022 – Nomination Day
27 February 2022 – Campaign
8 March 2022 – Early Voting Day
12 March 2022 – Voting Day
The Johor state election is also the first state election that will see voters aged 18-20 years withdrawing their votes after the gazetting of the constitutional amendment on 15 December 2021.
Through myundi you can access live broadcasts for 24 hours. The myundi portal is a one -stop directory where the public can find news, videos, interactive infographics and much more election-related information.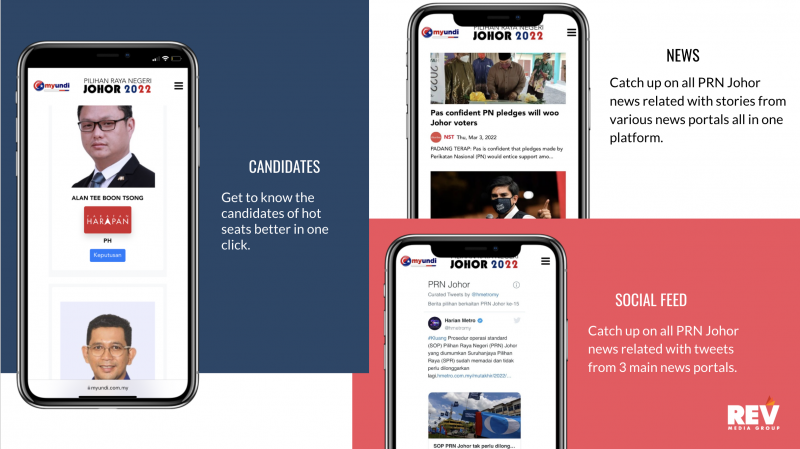 In a nutshell, myundi gives you the latest general election and state election vote counts, and results are updated live from all over Malaysia.
The myundi portal is accessible through computers, smartphones, and tablets at www.myundi.com.my across the world.
-END-
Media Contact:
Siti Ayuni Shaharudin
Communications, REV Media Group
sitiayuni@revmedia.my
About REV Media Group
REV Media Group is the leading digital publisher in Malaysia, representing over 40 top authority brands with an extensive distribution network that reaches out to more than 15 million people each month, about 80% of Malaysia's internet population. At REV Media Group, we believe in harnessing the power of data and technology to deliver engaging content that matters the most to our audience across multiple languages and platforms comprising News, Entertainment, Lifestyle, Technology and more. Leveraging on our comprehensive platform and reach, we strive to elevate brands to greater heights through influential, data-driven digital marketing solutions and exceptional content aimed at winning the hearts of consumers.