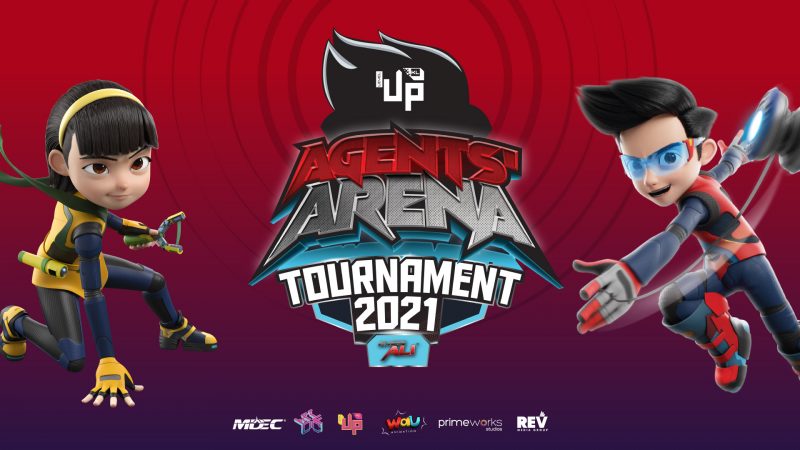 Petaling Jaya, 22 November 2021 – A trio of 15 year olds from Kedah was crowned as the first ever winners of the Ejen Ali: Agents' Arena Tournament 2021 which was held virtually last week. Ejen Ali: Agents' Arena, the latest series in the Ejen Ali mobile game family and the nation's first official mobile MOBA, held its tournament debut last weekend in conjunction with the Malaysian Digital Creativity Festival 2021 (MYDCF) by the Malaysian Digital Economy Corporation (MDEC) with a prize pool of RM10,000.
With hundreds of thousands views across Ejen Ali's YouTube channel and MyGameOn's TikTok channel, the first ever Ejen Ali: Agents' Arena tournament was won by Rusuh Gank, a team comprising three 15 year olds from Kedah who walked home with the RM5,000 grand prize.
The talented team consisted of Megat Ahmad Muizzuddin Megat Ismail Bashir, also known as muzOP in-game who served as the team captain, and teammates Muhammad Shafi bin Soffian a.k.a Kazuya and Muhammad Syamil Mohamad Sayuthi a.k.a Wannnnchuk.
Adrian Lai, REV Media Group Head of Games Network said, "The first-ever Ejen Ali: Agents' Arena tournament was a runaway success and exceeded all expectations. Congratulations to all winners!
"The registration slots were filled in a matter of days, signalling the community's strong interest in the game as well as its potential as a premier mobile esports title. The encouraging tournament live stream audience numbers also show that the game is poised to attract a multitude of gamers into the Ejen Ali universe."
Mohan Low, Director of Digital Creative Content, MDEC, "Our goal remains true towards building Malaysia as a regional digital content and games hub. Aligned with that is for us to surface, recognise and support Malaysian talent and IP's with great potential.
Ejen Ali: Agent's Arena is one of these games that has the potential for greater heights. I would like to congratulate the tournament winners and REV Media Group for a successful esports event", he added.
Rusuh Gank dominated the entire tournament, before coming up triumphant by defeating Toska Team with a 3-0 victory in the final.
muzOP showed off his skills by using the character Khai while Kazuya, on the other hand, showed his prowess by maining the titular character, Ejen Ali. Wannnnchuk meanwhile, carried the team with the character Alicia.
Don't forget to try out Ejen Ali: Agents' Arena yourself! Download Ejen Ali: Agents' Arena now on Google Play Store and Apple App Store.
-END-
Media Contact:
Muhammad Faisal (Petch)
Communications, REV Media Group
faisal.noor@revmedia.my
About REV Media Group
REV Media Group is the leading digital publisher in Malaysia, representing over 30 top authority brands with an extensive distribution network that reaches out to more than 15 million people each month, about 75% of Malaysia's internet population. At REV Media Group, we believe in harnessing the power of data and technology to deliver engaging content that matters the most to our audience across multiple languages and platforms comprising News, Entertainment, Lifestyle, Technology and more. Leveraging on our comprehensive platform and reach, we strive to elevate brands to greater heights through influential, data-driven digital marketing solutions and exceptional content aimed at winning the hearts of consumers.
About Ejen Ali
EJEN ALI features a boy who accidentally binds himself to an intelligence device, Infinity Retinal Intelligence System (IRIS), belonging to spy agency Meta Advance Tactical Agency (MATA). He then finds himself unwillingly recruited as a secret agent whilst trying to juggle his already chaotic normal life. Since its debut on Malaysian free-to-air television channel TV3 in 2016, EJEN ALI has been broadcasted in over 50 countries in South-East Asia, Middle East and North Africa, the Indian sub-continent and North America. The series and feature film is currently available on the Disney+ Hotstar and Netflix on-demand streaming platform.
The animation series has also spawned three standalone mobile games with over 3.7 million downloads to date, available on Apple's App Store and Google's Playstore. The series was followed by EJEN ALI THE MOVIE in November 2019, which raked in an impressive RM30 million (USD8 million) at the box office and on demand platforms in Malaysia, Singapore, Brunei and Indonesia, making it the highest-grossing animated film in Malaysia to date.
About Ejen Ali: Agents' Arena
● A multiplayer mobile game where you control a hero in a team of 3 to compete against another team of players or AI bots
● Your objective is to capture zones and knockdown your enemies
● The first team to reach 100 points wins
● Download Ejen Ali: Agents' Arena now on Google Play Store and Apple App Store